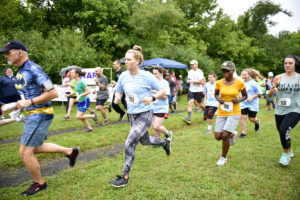 What a "COOL" way to run or walk on a hot summer day (it was pouring the rain last year) and take in the scenic views around the golf course; fish/duck ponds; past the wave pool; the Palmer Mill and through a small town! Children young and old have a great time spraying water at participants during the start of the race and as they cross the finish line. Everyone joins in on the fun with water guns and buckets of water. This is a fun run for the whole family in celebration of National Health Center Week. Rain or shine! Prizes will be awarded based on participation. Spread the word to your friends and family.
Location: Saltville Medical Center, 308 West Main Street, Saltville, VA 24370
Registration fee: $20.00. Register by Friday, August 2 for an event tshirt.
Upon registration, specific details and confirmation will be emailed to you.
Sponsorship opportunities are available. Gain company recognition with your logo on our event tshirts, event banner, and social media posts.
Community vendors are welcome. No cost to set-up, a $25 door prize and snacks/water for participants. Feel free to pass out company literature and freebie items.
Questions? Contact Kim Stewart; kstewart@svchs.com; (276) 496-4492, ext. 1021