Southwest Virginia Community Health Systems (SVCHS) held their third annual Family Fun Water Gun Run (& Walk) on Saturday, August 10, 2019 with 23 participants.
The 5K event was held in part of a national campaign during the week of August 4- 10, 2019 to raise awareness about the mission and accomplishments of America's Health Centers and the dedicated staff who bring health care to the medically underserved.
The race was divided into three categories for men, women, and teens with 23 participants total. In the men's category, Kevin Lee came in first, Thomas Brown came in second, and Matthew Sisk can in third. In the women's category, Briana Vance came in first, Dixie Hunter came in second, and Valerie Hatcher came in third. In the teen category, Makaleigh Jessee came in first, Kelli Garrett came in second, and Kristyna DeHart came in third. Jessee also was a first runner across the finish line with a time of 21:10.
This year's race was sponsored by Clark's Pharmacy, New People's Bank, Anthem Healthkeepers, Food Country, Smyth Regional Homecare, Smyth County Chamber of Commerce, Town of Saltville, Saltville Fire Department, Virginia Community Healthcare Association, National Association of Community Health Centers, National Health Center Week, and FM94!
Next year's Family Fun Water Gun Run (& Walk) will be held on the Saturday of National Health Center Week. The official date will be set closer time to the 2020 event.
Teen Winners: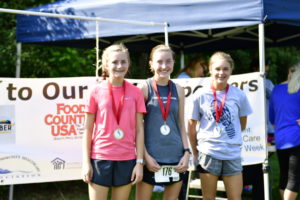 Men Winners: